Faculty plays a central role in the study abroad experience. We bring together U.S. Faculty, International faculty and local experts in order to explore a wide range of topics. Our qualified staff is available to help you make the most of your study abroad experience in Florence. Below is a brief introduction to the FSU Florence Staff and Faculty.
Staff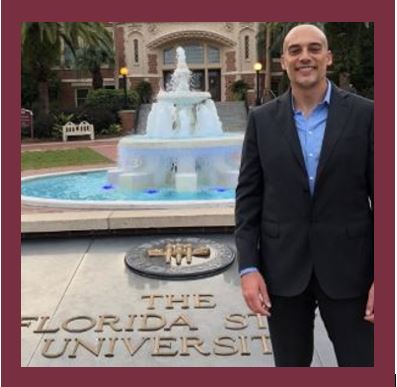 Charles Panarella
Director 
Born and raised in Staten Island, New York, Charlie has worked for FSU Florence since the summer of 2018. He teaches Italian and classes on leadership. He has a master's in Italian language and culture from Middlebury College and a Ph.D. in educational psychology from the University of Nevada, Las Vegas.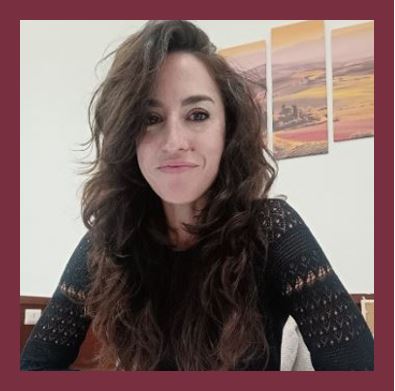 Laura Buonanno
aSSOCIATE DIRECTOR
Laura Buonanno is originally from Nashville Tennessee and has called Florence home since 2008.  
An alum from Bellarmine University, she graduated with a major in Communications and an International Studies minor. 
She studied from 2003 to 2004 at the University of Urbino and the experience was so formative that, 2 years after graduating she decided to quit her job in marketing and move to Italy.  
She loves working in student administration and feels lucky to have a job where she can plan trips, and travel with students. The most rewarding part for her is forming relationships and watching students grow over the course of their study abroad experience. As Program Coordinator, she plans orientation, semester and trip itineraries, and works closely with the Program Assistants to ensure students have an array of events, dinners and activities to keep them engaged in Florence.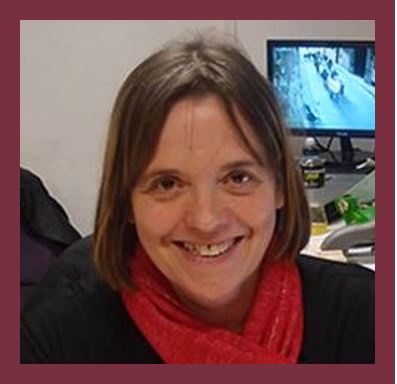 Ilaria Mugnaini
Housing Coordinator
Ilaria attended the School for Interpreters and Translators in Florence and speaks English and German fluently. Once a study abroad student herself, in England and Germany, she understands the experience of living and studying abroad. She also has over 20 years of experience working with study abroad students from all over the world. She joined the FSU Florence program in 2008, and is responsible for all FSU Florence student housing.
As a native Florentine, Ilaria has great knowledge of the city. She is constantly on the move from residence to residence, and works daily to ensure that each residence is operating smoothly which can range from coordinating with security guards to supporting our cleaning and maintenance crews.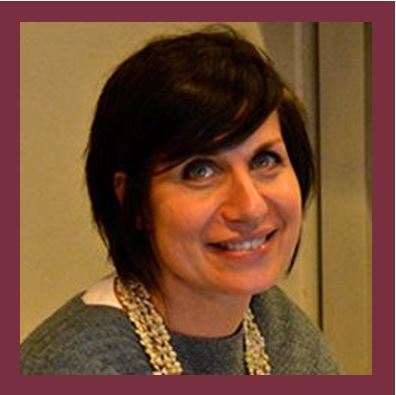 Tamara Pfeil
Financial Coordinator
Financial Coordinator (as already written on the website) 
Tamara was born and raised in Switzerland. She graduated from the Upper Commercial School, with her focus on business and languages, specifically German, French, English and Italian. She has called Florence home since 1988. 
Before joining FSU in 2006, she worked for numerous international companies in Switzerland and Italy. At FSU she is responsible for accounting, budgeting and office administration.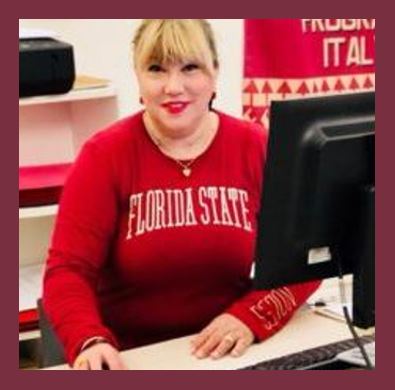 Vanessa Kummer
PROGRAM COORDINATOR
Vanessa was born and raised in Dubrovnik, Croatia. She is fluent in English, Italian, and Croatian. She moved to Florence in 1990 where she graduated from the University Cappiello di Firenze with a BA in graphic design and communication. She joined the FSU Florence Program in 2018 where she assists the FSU Florence faculty with various aspects of their courses. She loves her job because it gives her the opportunity to be more involved with cultural events, students, and faculty members. Her main interests are art, opera, theater, and traveling. Vanessa is excited to help students and faculty members experience and explore her favorite city.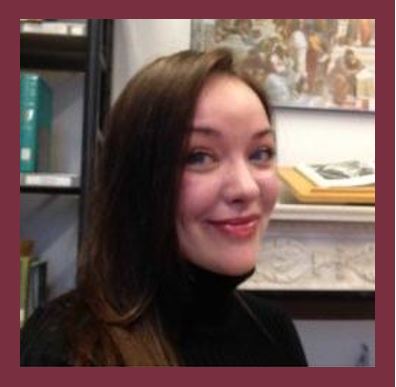 Kate Dowling
Librarian
Kate joined FSU Florence in 2019 and is originally from Virginia, USA.   She has her MSLIS and Archives Management degrees from Pratt Institute in New York City, and she studied bookbinding and paper conservation at SACI Institute in Florence, Italy.  Kate is responsible for managing the Garnet & Gold Library and the FSU Florence Archives and Rare Books collection.  The main Library collection consists of over 10,000 volumes dating from 1843 to the present day on topics ranging from Italian language, culture, and art history, to astronomy and political science.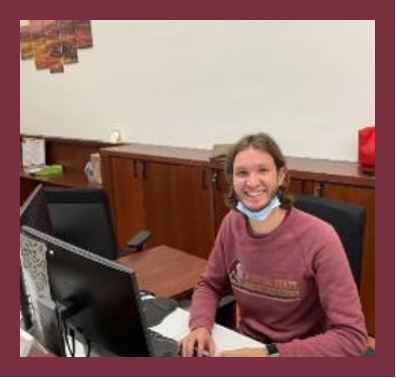 Giacomo Sproccati
ACADEMIC & RECRUITMENT COORDINATOR
Giacomo was born and raised in Milan where he earned a dual degree in Communications and Communications & Society from the University of Milan. He continued his studies at John Cabot University in Rome where he was awarded a cum laude B.A. in Communications. At John Cabot Univ., Giacomo became interested in teaching Italian as a foreign language, eventually taking this dream to California State University Long Beach. While pursuing his master's degree in Italian Studies and Rhetoric at California State, Giacomo taught Italian Language classes as a T.A. His thesis focuses upon how TED Speakers use narratives to construct a sense of national belonging in Italy. In his free time, Giacomo plays sports, practices public speaking, and loves to travel. Giacomo joined the FSU Florence Program in Fall 2019, and he assists students with an array of different needs, especially medical ones, while he also ensures the observance of the FSU's Student Conduct Code. Giacomo also teaches an Italian Language course every semester.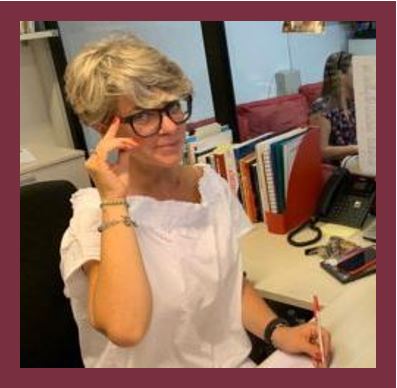 Costanza Menchi
Fashion Merchandising & Communication
"Made in Italy" Program Coordinator
Costanza Menchi, born and raised in Florence, joined FSU Florence in 2007, where she has been teaching Italian Language and Culture courses at various levels. Earning her Laurea degree from the University of Florence in Art History, with a concentration in History of Costume and Fashion, she pursued her M.A. at Middlebury College (VT) in Culture and Communication, focusing on fashion trends through cinema. In the beginning of the Fall 2019 semester, Costanza also became the Coordinator of the Fashion Merchandising and Communication Program. She also is one of the co-editors of the student magazine, ItaliaNoles, and is continuing leading the volunteer efforts at the Montedomini Senior Citizen Center.
She has always been interested in costume and fashion as a mirror of culture and society, and as a medium of communication. Her research is interdisciplinary, ranging from costume-visual arts to fashion in theater-cinema, craftsmanship, fashion archives and trends, music, and photography. She has a strong interest in the interdisciplinary aspects of Fashion Studies, particularly in exploring fashion as an approach to understanding cultural diversity. Costanza has worked with numerous fashion companies in Florence such as the Ferragamo museum, and numerous independent local brands to help create an online platform to provide International visibility. She is interested in every aspect of the fashion world, particularly in the production system behind the scenes, and in promoting the values of Made in Italy through a deep understanding of the artisanal production. Costanza believes in the experiential learning approach and is always ready to involve students in practical activities in order to get a better appreciation of valuable goods, especially in the luxury market. For more information on projects that Costanza is involved in, go to: http://www.costanzamenchi.it.
Faculty Directory (Italy based)

Luca Bufano
Professor
Luca Bufano was born in Florence, where he graduated with honors in Italian Language and Literature. He holds a Ph.D. in Italian from the University of Connecticut, and has taught in several American universities, among which the University of Wisconsin-Madison and Wesleyan College. He has written for the Italian News Agency AGI, the literary magazine "Nuovi Argomenti", and has published essays on Dante and 20th century Italian Literature. For the Italian publishing house Einaudi, he has edited the letters and the short stories of Beppe Fenoglio (1922-63). He has been teaching a variety of courses in Italian language and culture at FSU Florence Study Center since 2004. 

Rahoul Masrani
Professor
Rahoul is a Canadian-born, UK-raised professor of media and communications. After studying in Florence and New York at NYU as an undergraduate, Rahoul returned to London where he worked for several years in private banking. He later began to pursue his academic career, completing a Master's degree in 2007 and a PhD in media and communications in 2016 at the London School of Economics and Political Science (LSE). Rahoul then taught extensively at the LSE for several years, before relocating to Florence in 2019. He has been teaching media and communications courses at FSU in Florence since 2020, alongside co-editing the ItaliaNoles student magazine. Rahoul also works part-time as an editor for a Hong Kong-based academic publishing company. 

Emiliano Wass
Professor
Emiliano holds a Ph.D. in Political Science and History from the Scuola Superiore Sant'Anna (Pisa, Italy), an MA in Anthropology from the Universidad Autònoma Metropolitana (Mexico City, Mexico) and a BA from the Università degli Studi di Firenze (Florence, Italy). He teaches a variety of subjects in the social sciences field, from Media & Politics to Cultural Anthropology: his most recent research interests concern the ways in which new media are reshaping the political arena and the ethics of digital technologies. Besides teaching, he currently works as a consultant and translator for many publishers, and he has written extensively on digital publishing. 

Victoria Ambruso
Professor
Victoria is a California native with Italian roots in Piemonte and Basilicata. During her Bachelor's in Communication Studies at California State University- Long Beach, she studied abroad in Florence, Italy. She became enamored with the study abroad experience and Italian culture, so much so that she created a new way to examine study abroad adaptation from students in a small Italian town for her M.A. thesis.  
While teaching various sections of Communication courses at CSULB, she discovered the University of Gastronomic Sciences and decided to move to Italy and study Italian food and wine culture (which happened to include many, many tastings!). This Master of Food, Culture, and Communication focused on Italian food culture, hospitality, and various communication and marketing techniques. Her thesis focused on cultural representation in international/international-themed restaurants and film. 
She interned at Eataly in Florence where she later became the current School Specialist and manages the cooking school and various events. She has recently joined the FSU Firenze team in 2021 and teaches all things food, wine, and hospitality! 

Chris D'Alessandro
Professor
"A Florida man, Chris completed his bachelors in Classics at The College of the Holy Cross in Worcester, Massachusetts. He discovered his love for Italy and the Italian language while studying ancient topography during a semester abroad in Rome. This experience led him to continue his studies after graduation at Middlebury College's Florence program, where he completed a Masters in Italian with a concentration in literature. Chris has an avid interest in historical Romance linguistics, Dante studies, as well as Italian heritage and diaspora studies." 

Taylor Dimke
Professor
Taylor completed his undergraduate at Miami University in Oxford, Ohio, where he specialized in modern languages. After his Junior Year, he studied abroad in Urbino and discovered his passion for Italian culture and history. His love for all things Italian led him to the Italian Language School at MIddlebury College, where he earned a Masters in Italian Culture and Communication after living and studying abroad in Florence from 2010 to 2011. In 2016, he graduated from the University of Chicago with a MA in Romance Languages and Literatures. Taylor's interests include medieval and Renaissance Italian art, literature and history, studying languages, travelling, photography and skiing. 

Nicole Cuddeback
Professor
Originally from Florida, Nicole Cuddeback holds degrees in Archaeology from the University of Florence and in Creative Writing and Literature from the University of Houston and Sarah Lawrence College. A member of Florida State University's Florence faculty since 2002, she currently teaches courses in Classics and Literature. She is also the author of the book of poems The Saint of Burning Down and other works that have appeared in various American literary journals.   

Natalia Piombino
Professor
Natalia got her Ph.D. in Italian Studies from Royal Holloway (University of London) and is specialized in the history of the Italian south. She has been teaching at various American universities for more than twenty years, both graduate and undergraduate courses. 
Victoria Bartels
Professor
Victoria Bartels is a cultural historian of early modern Italy. She holds a PhD in Early Modern European History from the University of Cambridge, where her doctoral research examined the cultural role of arms and armor in Renaissance Florence. Victoria previously served as a Kress Fellow at the Medici Archive Project in Florence. Her current research interests focus on weaponry, violence, warfare, dress, and contemporary notions of gender. She currently works as an Adjunct Professor at Florida State University in Florence, as well as a Research Fellow on the project "Refashioning the Renaissance: Popular Groups and the Material and Cultural Significance of Clothing in Europe 1550–1650," funded by the European Research Council. 
Linda Reynolds
Professor
Is originally from London and holds a BA in Italian Studies from Reading University, U.K. and a postgraduate degree in Art History from Edinburgh University, Scotland. She has taught at Universities in England, Scotland, New Zealand and for F.S.U. in Florence since 1995. She has traveled widely to all five continents and has lived in Paris, Sicily, Rome, New Zealand, New York and Washington D.C.

Michela Mattei
Professor
Maria Michela Mattei (Florence, 1983) 
After graduating in 2007 in History of Art music and theater (DAMS) at the University of Florence, she obtained in 2012 a Ph D at the University of Siena in visual semantics with a doctoral thesis dedicated to the artistic, political and semantic role played by contemporary monuments.  
Maria Michela's areas of research and expertise are: history of Italian fashion, Made in italy, marketing and communication. 
Since 2012 she has been working as a journalist, Tv host and image consultant. 
Aoife Keogh
Professor
Aoife Keogh graduated with a Bachelor of Arts in Italian and History from University College Cork, Ireland. She specialized in history at postgraduate level obtaining a MPhil in History from University College Cork and later a PhD in History and Civilization from the European University Institute in Florence. She has researched in archives all over Europe and collaborated in several academic publications. She has been living in Italy since 2007.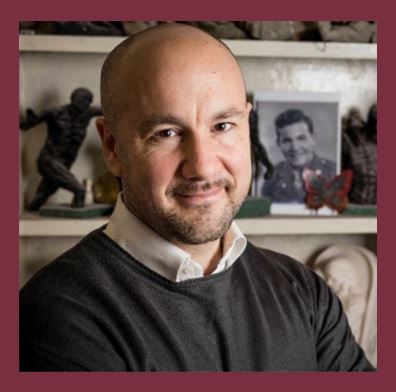 Alan Pascuzzi
Professor
Alan Pascuzzi is a painter, sculptor, author and professor of art history. A Fulbright scholar to Florence, he obtained his PhD from Washington University with specializations in Greek and Roman sculpture and Italian Renaissance art. He has been teaching Renaissance art and Renaissance drawing and painting techniques to students for more than a 20 years. As a professional artist, 
he has several permanent frescoes, paintings and sculptures in 
the centre of Florence other cities in Italy, Europe, China, the US and in Australia. Expert in traditional Renaissance drawing, painting and sculpting techniques, he has 
has appeared in TV documentaries on Renaissance art, including the BBC's The Color Blue and Inside the Mind of Leonardo, and on 60 Minutes. He has exhibited his religious works in sculpture at the Vatican and most recently in Florence. He has also just published his first book, 'Becoming Michelangelo,' which deals with the early drawings of Michelangelo. He lives in Florence, Italy. 
Pia Ferracin
Professor
Pia Ferracin was born and raised on the outskirts of Florence, Italy. From a very young age she had a passion for math and teaching. She earned her undergraduate and master's degrees in Mathematics from the University of Massachusetts, Lowell. While in Lowell, Ms. Ferracin enjoyed working both as a tutor and a youth advisor at Lowell Public High School. Upon graduation, Ms. Ferracin received her teaching license and became a math teacher at Essex Agricultural and Technical High School in Danvers.  She then decided to branch out into Higher Education and started teaching at Fisher College in Boston a few evenings a week. After spending over a decade in the United States, she realized how much she missed the city she once called home, and decided to return to Florence in the summer of 2018. FSU Florence welcomed her back with open arms, and she has now found the perfect balance by teaching math to American students and living in her hometown.
Emanuele Pace
Professor
Emanuele Pace is Professor of Natural Sciences at the Florida State University and Professor of Space Technologies and Astrophysical Techniques at the University of Florence. He is currently Program Manager for the Italian contribution to the ARIEL space mission under the ESA Cosmic Vision road map, which will study the atmospheres of hot extrasolar planets; he is also Program Manager of a project under ESA contract for the development of cryogenic aluminum mirrors. He was previously involved in several space missions as System Engineer of the Instrument Control Unit and PI of small experiments on board the ISS or the PHOTON/M3. Emanuele Pace is also Director of the Chianti Observatory of the University of Florence since 2014. He coordinated European and national projects; he has collaborated and continues to work with national and international teams; he is author and co-author of more than 180 articles on international journals, was invited to several conferences and chair of several conferences.  
Simone Anselmi
Professor
Graduated in economics at the University of Florence, he has a certificate in Marketing from New York University and a Master in Business Administration (MBA) from SDA Bocconi. He is certified trainer with NLP (Neuro Linguistic Programming). He has been also member of ICF (International Coach Federation) and member of the organizing committee of ICF Italian chapter. After an experience as executive in International Organizations in the areas of market research and advertising, since 2000 he has gained significant experience in training, consulting and teaching in the following areas: Global Management, Entrepreneurship, International Marketing, Human Resource Management, Personal Development, and Coaching. During these years he has participated as trainer in many change management programs targeted to executives and managers and has structured and conducted specific training, coaching and action learning projects in Organizations like: Pirelli, Unicoop Tirreno, McArthurGlen, Intesa San Paolo, Monte dei Paschi , BNL, Electrolux, Whirlpool, Telecom Italia, BMW, Tod's, Stefanel, Ikea, API – IP, ABB, Valtur. Zegna. 
Since 2002 he teaches Entrepreneurship, Marketing, International Management and Made in Italy 
Excellence at Syracuse University, Florence program, and since 2013 he teaches International Entrepreneurship and The Luxury Market at Kent State University in Florence, where he is also coordinator of the European Business program. 
Current areas of research / work: 
Sustainable Entrepreneurship, Sustainable Luxury, Value- based Marketing, Emotional and Cultural Intelligence, Organizational Behavior, Interpersonal Communication, Team building, Personal Development, Mindfulness